I've been getting many inquiries about our event and it only seems right to bring folks up to date on future plans.
Time and silence brings a clear perspective and we have enjoyed seeing our creation anew. We are intensely proud of the event we put forth, but also are excited about new plans and ideas for further purifying the experience.
The Californios is unique in that it is not governed by an association or board of directors. This isolationism causes the workload to be daunting, but it also ensures the purity and quality of the event and allows us to develop an experience that does not suffer the dilution of a sponsor driven board of directors, or the shackles of that bottom line.
It can remain a celebration of a way of life.
To achieve this, the event will no longer be an annual endeavor. It will come around like the perfect grass year, when conditions align in such a way that bounty finds its way to the doorstep, that sun, wind and water join hands and dance over the hillsides in a blanket of green.
We are moving forward, working on our next Californios, we suspect it will be a year or two. We are planning, designing and searching for that perfect balance, the right year, an event that rings of truth and beauty, camaraderie and grit. We are also working on other ways to bring these disciplines to those who hear the call. Be sure to sign on for our free newsletter for updates on events, videos and articles to stay connected.
2014 brings many new opportunities. We are excited and hopeful about the future and its promise. We are looking forward to the day we meet again to celebrate the life and passion that is "The Californios".
Gwynn Turnbull Weaver
2/1/13
The State of The Californios
Ranch Roping and Stock Horse Contest
Commentary and insights about the history and current state of the beloved event, its spreading influence, and its future.

An interview by Allison McCosker with Gwynn Turnbull Weaver
AM- You have well over a decade of "Californios" under your belt. In the event world that is quite a track record. Historically, most of these events are a flash in the pan, how have you managed this impressive track record?
GTW- Time gets away from you when you are submerged in something that takes this much focus. I have noticed that the burn out on these kinds of things is very high.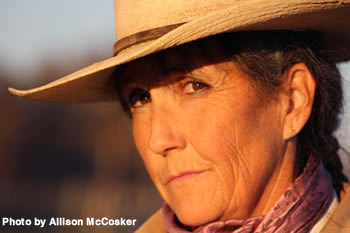 AM- How have you beaten the odds on that?
GTW- I've thought a lot about that and just like anything, it probably boils down to one word- commitment. That and the reality that Dave and I were a unique combination. Looking back, I think our hearts were in the right place; we really did it for the love of the discipline and to further people's awareness. I don't think turning a big profit was ever a realistic priority, though it would have been a nice by-product. But I guess we made choices all along the way to keep it pure and keep it from getting too commercial. Purity comes at a cost.
AM- Can you give me some back-story on the event. I'm assuming it was not always as popular.
GTW- That is correct. The early years of the event were very hard times for us. We were investing in building awareness for some thing we believed in. I don't guess that is ever easy. It took 5 years of substantial deficits and debt before the event began to break even; and we were not paying ourselves for our time- that was expenses only. Most folks don't probably know that. I had business people telling me that I was an idiot, that we could be making six figures putting on a big cutting or a team roping. I did the math and they were right. But that just isn't who we are.
AM- So, what was motivating you to keep going?
GTW- Ultimately, I think Dave and I both felt that the world needed the information we were putting forth. It was the next step in the horsemanship revolution that the Dorrances had birthed; people had awakened to the idea that we should be good to our horses, that we should approach them in a way that took their psychology into account. I felt that needed expanded to the other livestock involved- to life in general.
There was a lot of pressure on rodeos and other competitive events using livestock that was challenging some of their handling practices. I'm pretty soft hearted and I knew there was a way to preserve our western heritage AND be ethical in how we handled the livestock.
The Californios has been my attempt to make a contribution on that front.
AM- Do you feel you were successful in that regard?
GTW- From the standpoint of raising public awareness of the idea, yes, absolutely. That is why you are seeing smaller amateur competitions patterning themselves on our event.
AM- How does that make you feel?
GTW- As far as getting the message communicated? Great. We laid everything we had on the table to make it happen; our money, our place, our reputation - everything - and we left it on the table for a long time. It is rewarding to see people hooking into the idea.
AM- It seems these other events have pulled sponsorship and sometimes press away from The Californios. That has got to affect you.
GTW- Yes, yes of course those things have effected us. I would be lying if I said anything different. I learned so much doing my event over the years. I knew exactly what the market would bear. I had a pretty good feel for what kind of support was out there in terms of sponsorship, etc. It has been hard sometimes to see new events that tried to mimic the show get a lot of press their first year, and sometimes even before they even have a first year. It took us about five years to get a small article in some major magazines. I'm not criticizing them for waiting for public awareness to grow before reporting on us. That is the nature of the game.
AM- That has changed now?
GTW- Yes, of course. Over time the publications slowly hooked into what we were doing and ended up covering our event and I am grateful.
AM- Do the new amateur events inspired by The Californios help or hurt the real Californios event?
GTW- I guess I don't think about that kind of stuff very much. When the economy took its downturn in 2009, sponsorship for our event dropped. I was determined to keep the event going seamlessly on a fraction of the budget. This made our operating margin pretty dismal. When that happened, when a new event surfaced, if it siphoned off even a small fraction of sponsorship or ticket sales, it had the effect of plugging one too many lights into an electrical outlet- we could still operate but the loss dimmed our resources. Some even used our business name. That is a strange thing to me, in my mind that would be like branding some of the neighbors calves, but I guess some folks will do that kind of thing.
A fan post on our Facebook page said it best 'We went to a different event this year instead of The Californios. Won't make that mistake again…" I don't blame folks for wanting to explore new things,but the margin for an event this pure is so slim we suffered when this kind of thing happened. The demographic for this discipline is so small that if folks only came every other year, we could not sustain the event.
But I guess the truth is I really tried not to focus on what others were doing too much. I believe that folks have an inborn sense for authenticity, so I prefer to put my energies into looking forward and distilling the very best out of what is real and worth presenting.
AM- There are a few small events popping up that seem to be focusing on the amateur elements of ranch roping. Why is that happening?
GTW- Good business, probably (chuckling). Their event producers are smart enough to realize you need that kind of involvement to help finance the show. I think it is a great thing to let less experienced folks be involved- what a great way to let everyone play and generate revenue. We have a lot of clinic students that can now enter these competitions and participate and use their new skills. This is a good thing. I love seeing it.
I guess if I had it to do over again and if I was a better business person I should have incorporated the amateur element, but I'm too far down the road in a very specialized niche to change now.
AM- So how are things shaping up for The Californios 2013?
GTW- Well it's no secret that this has been a tough year for us on a personal level. We had some family illness issues and some loss and of course Dave's injury last fall. These things got our attention and we had to prioritize. There are several factors at work here that I'd like to share with folks.
First, the Californios will not be held again in Reno as it has these last three years. I enjoyed Reno and the facilities there but it was never really The Californios that I have always dreamed of having. It was a great chapter but I know it is time to move on and work at getting closer to the event I feel it should be to best reflect the values it promotes.
Having said that, the venue I would most like to have it at is not ready yet. I had hopes that it would be completed in time for a summer 2013 Californios but it looks like it is going to take longer than expected. Given this late date and all things considered, we have decided to regroup and refrain from having the event in 2013.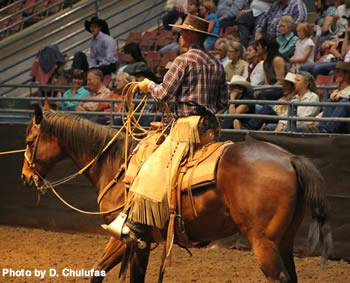 AM- What about all the Californios fans?
GTW- Taking this year is going to help us get some information out there that we always wanted to offer folks but never had the time to get set up. I love talking to people interested in this stuff. We are redesigning our website and I'll be doing a blog that has some real substance and will be helpful to folks. I am looking forward to more opportunities to share this lifestyle and these disciplines with more folks, free of charge.
AM- How can you do that?
GTW- We'll just do it. We make our living doing Horsemanship, Cow Working and Ranch Roping clinics and producing some DVDs to help people advance their knowledge. We get paid for that. But we would like to supplement that information with some additional input just because we can. Sometimes you just have to lay it all out there because it is needed in the world whether you get paid for it or not. We will be letting folks know about these opportunities through our email newsletter as the year goes along.
AM- And when will this next real Californios be?
GTW- I'm not going to say a date yet. I just can't bring myself to half-ass it. I'm pulling back and looking at how to make it better, how to make it into the experience I always wanted folks to be able to have. I'll be posting updates through our free e-newsletter for folks signed up for that.
AM- You have faith in the future of the event?
GTW- We've been running on faith for over a decade, (smiling) why stop now? I'm encouraged to let those we have birthed take their turn carrying the market for us with their own effort and promotion while we regroup for the next Californios experience.
AM-And what will that experience be?
GTW- Well I can't let the cat out of the bag now can I? (smiling) I'm hoping, based on my track record, that folks will believe in me and trust that it will be what it always has been- an authentic experience, laced with beauty and artistry, tempered with a gritty reality and, as always, the stuff that dreams are made of.