$('#slide').cycle({fx:'fade',delay:-8000 });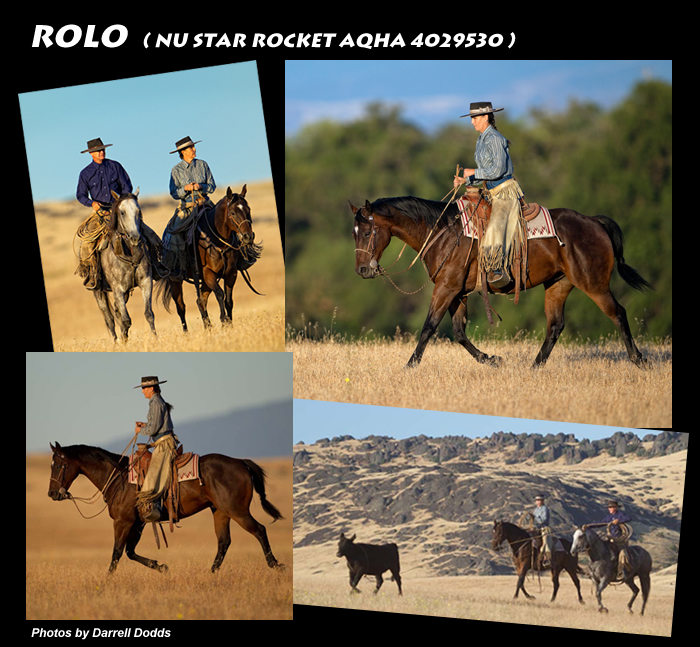 This nice dark bay gelding came to us in 2008. He was gentle by nature but had not had very much quality riding. We felt the horse had good potential, so Dave decided to invest the time it would take to bring him along. Dave has since folded him into his program, schooling, branding calves, and doctoring cattle outside on the ranches in Nevada and California.
We eventually began hauling him on our clinic tours and he has since become a well known personality at our clinics as well as in The Californios arena, where Dave has judged the event on the gelding for several years. Rolo is featured in our Branding dvd and is easily recognizable as the upstanding bay gelding Dave is riding in numerous clips. He will also grace the pages of Western Horseman magazine in the article that features Dave's roping preparation the March 2011 issue.
Rolo really blossomed in our program and is an elegant mover with a lot of presence. The artist, Shannon Lawlor was so impressed with him, she asked to immortalize him, wearing a Californios trophy concho bit, in a painting. The original painting of him is currently available.This distinguished gelding is worthy of a good home with a horseperson who will appreciate him.
Birth Date: April 10, 2000
Height: 16 Hands
Weight: 1200 lbs,
Price: please contact us
For more information: info@thecalifornios.com
Or 530/865-2610m
"A Bay Full of Tradition"
Size: 36" x 24"
Medium: acrylic on board
Artist: Shannon Lawlor
Serious inquiries to